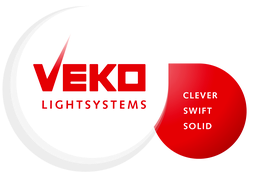 In the past six months, Veko has worked hard on its brand activation. This strategy will put Veko on the international map and make us stand out from our competitors. The first step has been taken: our logo and house style have been freshened up and the colour red is being used prominently in all our communications. Because red has been part of Veko for 45 years.
Our old pay-off has made way for three words that describe the core values of our company:
Clever -> Veko has proud employees who work hard every day to offer the customer a solution. And we do so in our own innovative way.
Swift -> Speed in assembly, but also speed in quoting, producing line lighting & devising solutions.
Solid -> Stands for the high quality that we deliver. Our product but also our service.
These core values do not come out of the blue, they are three words that were repeatedly mentioned in all the interviews we conducted with customers and colleagues. And we are proud of this and we want to propagate it. Veko remains Veko, but now with a modern look and clear positioning.
In the near future, we will be dotting the i's and crossing the t's in terms of branding and starting various campaigns on social media. Keep an eye on this website or follow our socials!