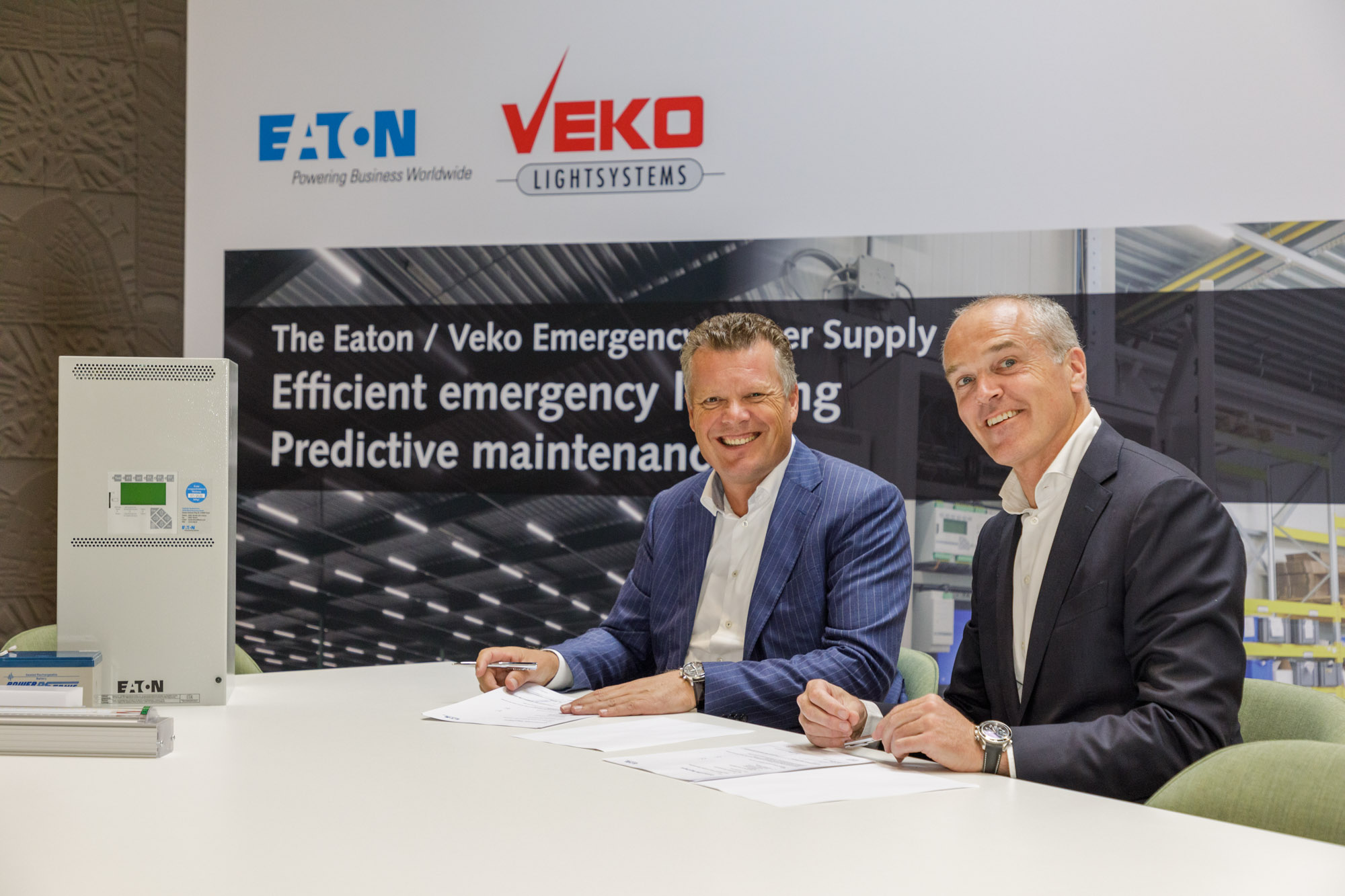 Veko Lightsystems International BV, specialist in the field of industrial linear LED lighting solutions, and power management company Eaton have signed a cooperation agreement. The collaboration enables Veko to offer central emergency lighting installations and should make companies aware of the safety benefits of these central emergency lighting installations in industrial environments.
Veko offers companies linear LED lighting solutions, in which emergency lighting is often integrated. This can be managed in a decentralized way, but often a central system is safer, requires less maintenance and can even be more cost-efficient. In a central system, a central battery station supplies the energy for the emergency lighting units. The so-called Veko Central Emergency Station has been developed and produced by Eaton and can be placed in an easy-to-acces location. That way, replacing batteries becomes a quick and easy job. The battery for central emergency lighting lasts 9 years on average, which is about 5 years longer than its decentralized counterparts.
Right now, most emergency lighting is powered in a decentralized way. This means the emergency lighting is connected to the regular power grid. When a power outage occurs, each luminaire has its own rechargeable battery to ensure it continues to function. Because every luminaire has its own battery, every one of them has to be tested and maintained separately. For safety reasons, it is recommended to replace batteries every four years. In various situations, this form of emergency lighting is not optimal: think of high areas with temperature differences, where the replacement of all battery sets has to be done with an hydraulic work platform and thus entails additional safety risks and extra costs (labour).
Easy maintenance
The Veko Central Emergency Station offers various maintenance benefits. The system can be set-up 'smart': the station itself tests every emergency lighting luminaire independently. When a malfunction is detected, the facility manager can be updated by e-mail and see at a glance which luminaire malfunctions at exactly which location.
Pilots
Earlier this year, three pilots with the Central Emergency Station were successfully completed. The reasons for choosing central emergency lighting were all different. For example, a laboratory demanded more than 1 lux. Another project contained a location with several fire compartments - in such a situation all cables have to be fire-retardant. A small central emergency facility per compartment is the best solution in such a case. The central emergency lighting system is available from mid-October.
Menno Veldboer, CCO Veko, on the cooperation: "Decentralized emergency lighting has been the most well-known and therefore most used solution to date. By joining forces, we deliver a centralized solution that reduces safety risks. Our ultimate goal is to provide central emergency lighting in 60% of our lighting projects. We are convinced that this is the best option for many projects."
Coen van Beek, Sales Director Benelux at Eaton: "Thanks to this cooperation, we as Eaton can contribute even more efficiently to the safety situation of companies that place high demands on their lighting. Whether it's line lighting at high altitudes, situations with extreme temperature conditions or lighting with a higher intensity than usual, together we can provide a suitable product for all these conditions."